Restaurant L'Antares
Saint-Jean de Braye
La Cuisine de Saint-Jean de Braye
"Our Chef, Louis, likes to concoct original cuisine, made with quality products from some of our selection of local producers. Passionate about his job, he likes to surprise the customer with his creative cuisine.

The ingredients that inspire him?
Meat and fish. He likes to sublimate the simplest products to bring out the best in them. For example, try his "homemade" purée and you will be charmed. On the sweet side, you will be just as delighted to discover his famous "Savarin au Caramel de Confiture et Chantilly"
.
Olivier G., manager of the establishment
Do I have to book a table if I want to have lunch or dinner?
It is not necessary to reserve your table. However, if you do not wish to have any unpleasant surprises, you can call us directly at 02.38.21.59.59. As our establishment is open 24 hours a day, someone will always be able to take your reservation.
I am not a hotel guest, can I come for dinner or lunch?
Of course! Our restaurant L'Antares is open to everyone, hotel guest or not. Everyone is welcome whether it is for lunch or dinner.
02.38.21.59.59 ,
Call us and book your table for lunch or dinner - Restaurant open to all.
Some pictures of our restaurant
Our chef, Louis Angot, concocts for you an original cuisine made with quality products from our selection of local producers.
In order to better satisfy you, Chef Angot changes the restaurant menu to offer you seasonal products at very affordable prices.
Our first offer is set at 15.90€ (daily special)
2-course package at 19.00€
The 3-course menu, on the other hand, is at 24.90€
The capacity of our restaurant room is 84 seats. Throughout the summer, we invite you to lunch on our spacious terrace which can accommodate up to 40 additional covers.
Service schedules
Our restaurant in Saint-Jean de Braye
€24,90
Le 22/03/2023
Restaurant hours
Monday lunchtime to Friday lunchtime, from 12:00 to 14:00 and from 19:00 to 21:30.


Our restaurant is open to all. Call us to book your table on 0238215959.
On weekends we welcome various birthday meals, receptions, weddings... Contact us for a possible privatisation of our restaurant room.
For hotel guests, outside our restaurant's opening hours, we offer a quality meal tray. Please ask at the reception desk.
It's new, it's all pretty and it's very good: the poke bowl.
Originally, poke bowls are traditional Hawaiian dishes made with raw fish.
In recent years, poke bowls have been making their way onto more and more restaurant menus, and this summer L'Antarès has decided to bring you its own poke bowl - fresh dish par excellence.
L'Antarès offers you these 3 types of "poke bowl":
Vegetarian poke bowl
Tidal poke bowl
Meadow poke bowl
The poke bowls are all priced at €14.90 and a Poke + Dessert package at €21.00 is also available.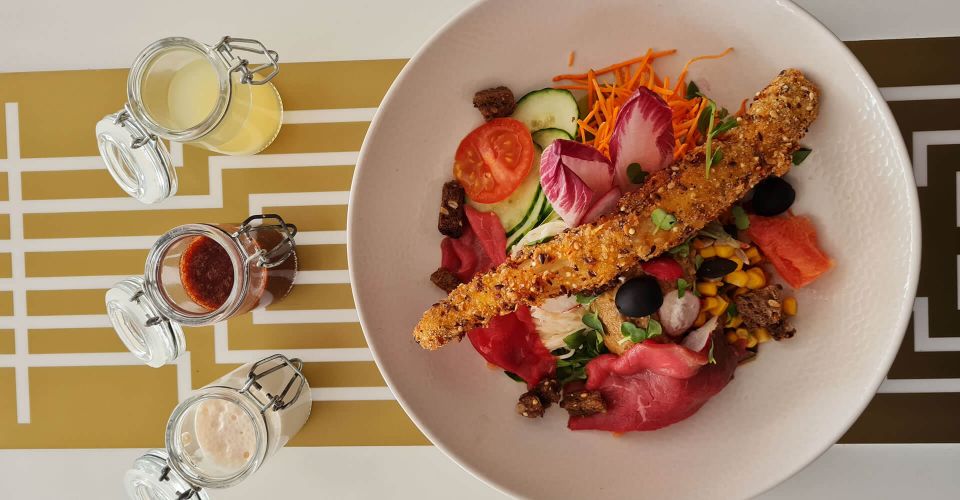 Master Vinegar Maker: Martin Pouret
The Maison Martin-Pouret, master vinegar maker since the end of the 18th century, is located in the heart of the city of Orléans. It must be said that the relationship between the city of Orléans and vinegar products dates back to 1580 when archives show the establishment of a method of making " Vinaigres d'Orléans ".
The Laurentais Mill Farm
The Laurentais Mill delivers us the various flours, pasta, semolina and lentils. Located in Huisseau sur Mauves, the EARL Doret is a family business whose credo is " from field to plate ". A shop is directly accessible on the spot, do not hesitate to pass by during its opening hours.
The Yèvre Capri cheese dairy
The Yèvre Capri goat dairy produces a delicious goat cheese for us. The processing is done directly on site. Present on various markets in the region, you can also find their products directly at the farm where visits are sometimes organised as well as direct sales.