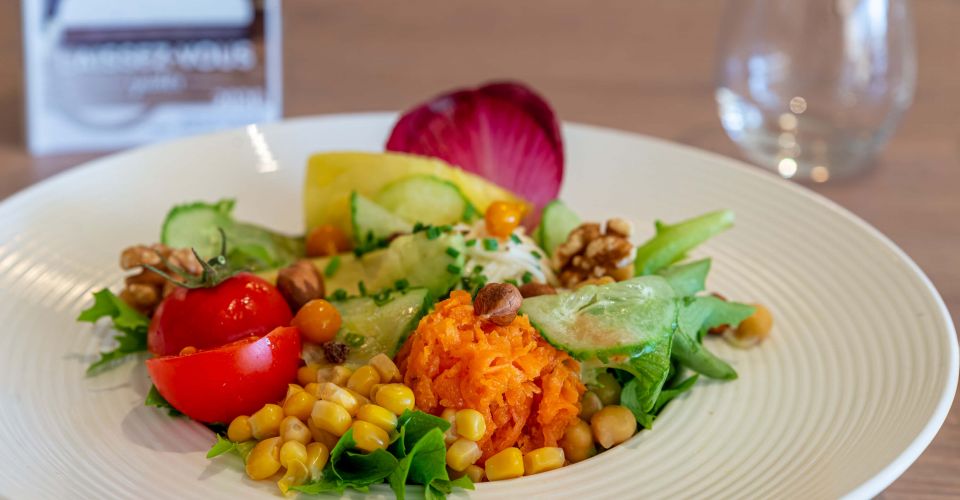 Information about the Orléans restaurant
Olivier and his team welcome you from Monday to Friday lunchtime from 12h to 14h00 and from 19h00 to 21h30.
Discover our entire menu and menus from 15.90€
We are open to all, no need to be a guest of the hotel to come and enjoy our cuisine.
A rich and local breakfast
Fresh bread, bakery pastries, local honey, fresh fruit, fruit salad, jams, fruit juices...
Discover the buffet of our breakfast without further delay.
Our schedules?
Breakfast is served from 6:30 am on weekdays and weekends
Discover the breakfast buffet of our hotel in Orléans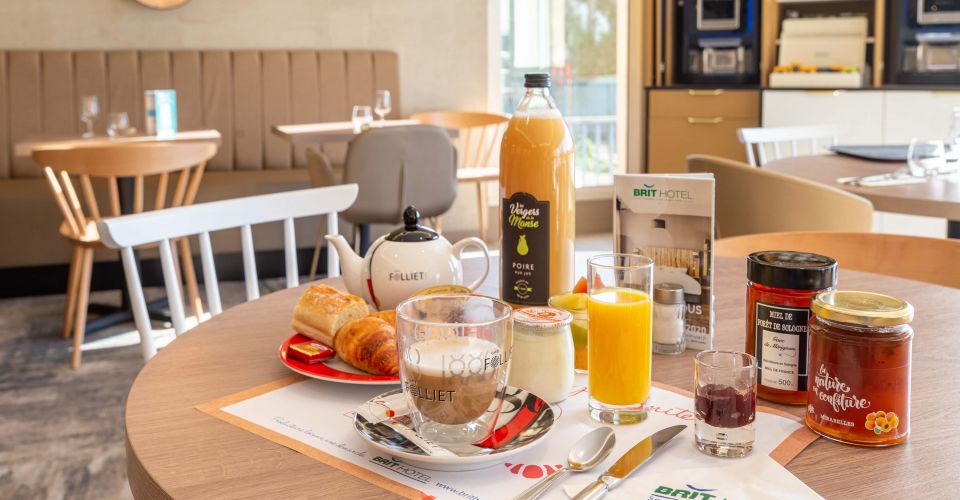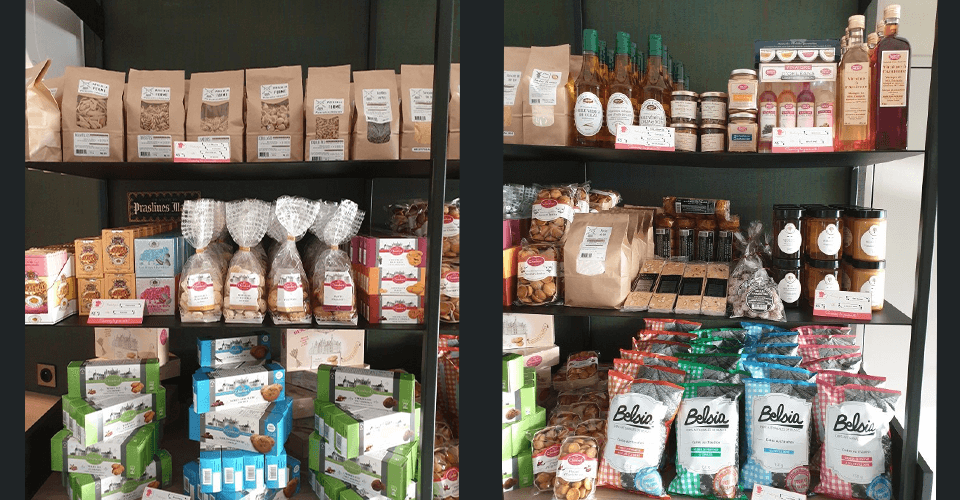 Discover the local products of our shop.
A variety of local products are available in the local shop of our hotel. From sweets with oils to pasta with corn flour... deliciously selected to satisfy your taste buds.
The Brit Hotel Orléans St Jean de Braye's Local Boutique offers you local products from 6 producers just a few kilometres from Orléans.
Brit Hotel has been committed to the local approach since 2015 with its own "local producers" label. To do this, all our hotels are committed to offering you the opportunity to taste or buy local products that meet very specific criteria such as: distance, quantity and quality.
Our dishes in local jars
at the restaurant l'Antarès
Available 24 hours a day, fast and local!
You won't be able to get to our restaurant l'Antarès before it closes?
Don't worry, we won't put you to sleep on an empty stomach...
We always have solutions for you! Thanks to our range of local and French jars* available 24/7 to allow you to have lunch and/or dinner at any time. Discover them at the reception of your hotel !
*Starters from 6.90€, main courses from 15.90€ and desserts from 6.90€, accompanied by a drink from 4.20€.
**Net prices including VAT, service included.
Discover on this map the location of our various local producers with whom we work according to the harvests and seasons, whether at the Restaurant or at the breakfast service.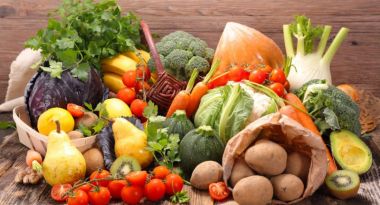 Farm Racinerie
237 rue Haute
45590 Saint-Cyr-en-Val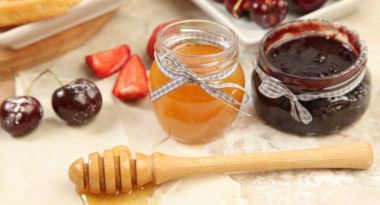 Estelle shop
Jams, Compotes, Entremets
6 rue des 15 Pierres
45750 La Chapelle St Mesmin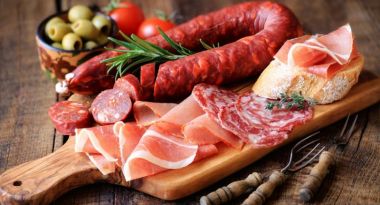 Matthieu MAISONS – Ferme de Létourville
Chips with different flavours
Letourville
28150 Boisville-la-Saint-Père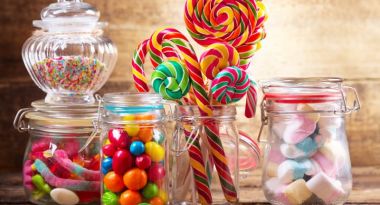 Sébastien Papion – La Nature du Chocolat
Sébastien Papion is very proud of his attachment to "home-made" know-how.
The chocolate chef's laboratory - located on rue Jean Bertin in Chécy - is regularly open to the public and is visible from the shop all year round.
25 rue Jean Bertin
45430 Chécy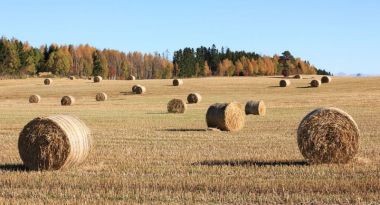 Clos des Mauves Farm
Breeding of free-range laying hens for direct sale.
280 ferme de clos
45130 Huisseau Sur Mauves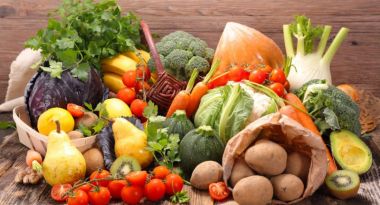 Thierry Pommier producer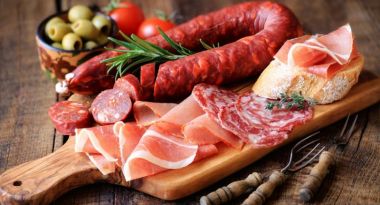 18 Boulevard Carnot
45150 Jargeau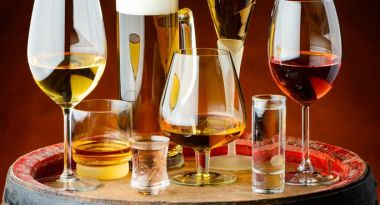 Sirop Monin
With a selection of over 110 premium French syrups, MONIN offers a wide range of original syrups to transform an ordinary drink into a real experience thanks to our original recipes.
5 Rue Ferdinand de Lesseps
18000 Bourges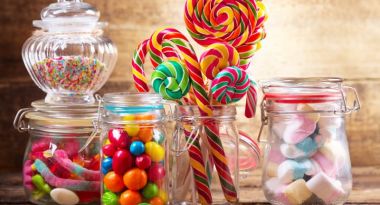 B Glacier
For more than 30 years, we have been developing unique and delicious recipes in our laboratory at 8 rue des Albanais.
8 Rue des Albanais
45000 Orléans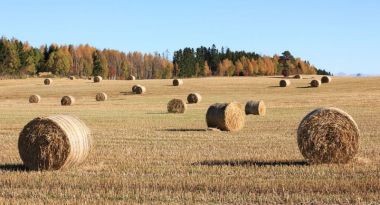 LE MOULIN DU LAURENTAIS
Different types of pasta, green lentils, wheat and corn flour and durum wheat semolina
550 rue de chatre
45130 HUISSEAU SUR MAUVES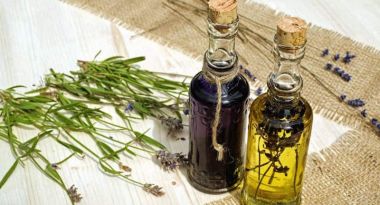 15 rue de la Fontaine Izy
45480 Bazoches les Gallerands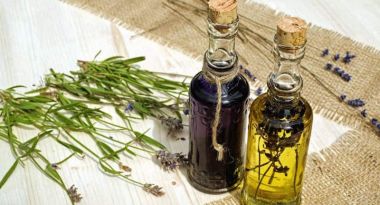 Martin Pouret
Master Vinegar maker & Mustard maker from Orléans
236 Rue du Faubourg Bannier
45400 Fleury-les-Aubrais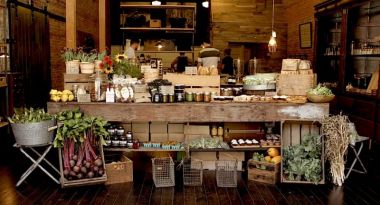 SAVOURE HOUSE
11 avenue Justin Clichy
28310 Janville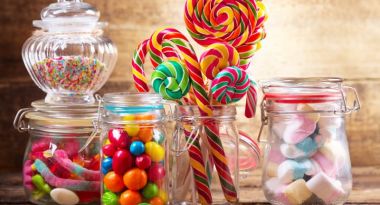 Les Tabliers enchantés
We offer home-made pastries and sweets made with local products (organic eggs and flour from the Loiret, butter from the Verneuil dairy, fruit mainly from Loiret or French producers).
4 clos Balorée
45560 Saint Denis en Val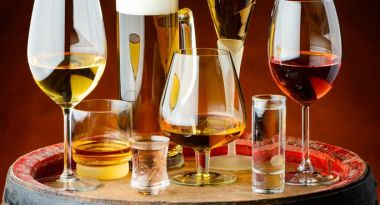 Covifruit
613 rue du Pressoir Tonneau
45160 Olivet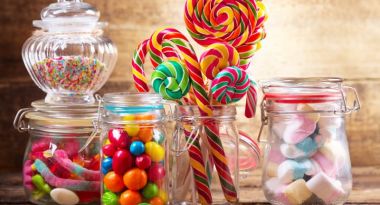 Chocolats LADE
Artisan creator, Denis Lambert is a specialist in low glycemic chocolate! Made in their shops with fresh products, without added sugar and without freezing, Lade Chocolates will make you melt...
118 av Verdun,
45800 Saint Jean de Braye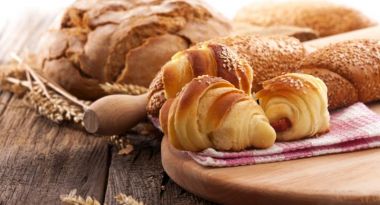 Sologne pastries
Located in the Loiret region of France at La Ferté-Saint-Aubin, the Biscuiterie de Sologne was taken over in 2008 by Aurélien Vassort. The Biscuiterie de Sologne specialises in the production of honey-based pastries.
3 allée Joseph de Cugnot
45240 La Ferté St Aubin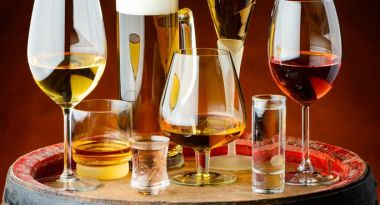 Arborigen

Made in France aperitif for adults. Drink, sparkling, alcoholic, fermented (7%), 100% fruit.
Olivet Pear brandy

Route d'Auxerre
45420 Bonny sur Loire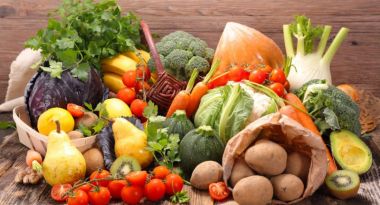 Sabine Dalloux - Les Champignons Ligériens
Established in July 2021, Sabine produces oyster mushrooms and Shiitake mushrooms in organic farming.
These two mushrooms are very different in appearance and taste.
27 rue Victor Hugo
45400 Fleury Les Aubrais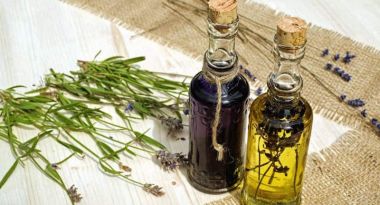 Huilerie des Fouets
The Huilerie des Fouets located in Courtenay (45) is a diversification of the Rivière family farm. The production of rapeseed and sunflower on the farm allows us to obtain a high quality virgin oil from the first cold pressing.
Les Fouets
45320 Courtenay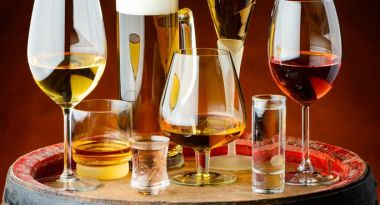 Maison Montigny Piel
Wine Saint Fiacre from Orléans
560 rue St Fiacre
45370 Mareau aux prés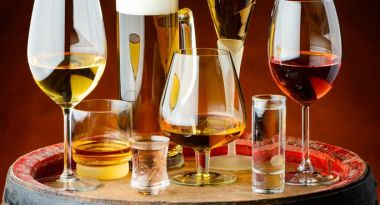 Les Vergers de la Manse
APPLE JUICE & ARTISANAL FRUIT JUICES
59 Rue de la République
37800 Sepmes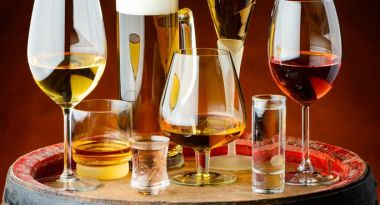 Distillery O - SPIRIT
Artisanal distillery located in the Centre Val de Loire where the spirits are made.
25 Route d'Orléans
45380 Chaingy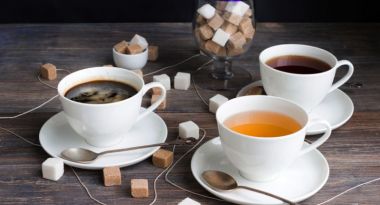 Bonjour Bonsoir - Antoine Rauline
Aromatic plants grown in France: infusion, syrup, condiment & pesto 100% natural
5275 Rue de la Tuilerie-Neuve
45750 Saint-Pryvé-Saint-Mesmin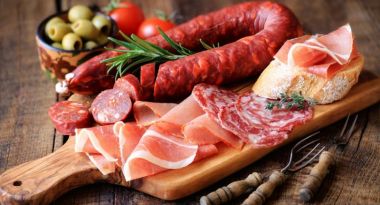 EARL Les Beaudières
400 impasse de la Dudinière
45700 Trainou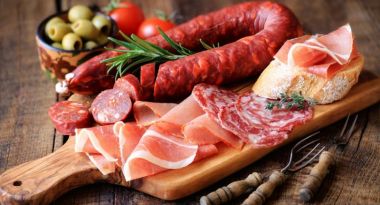 Les Volailles de Donnery
After a total reconversion, the Toutain couple decided to buy "La Bergerie", a farm which they transformed into a chicken farm and aims to sell eggs directly from the farm.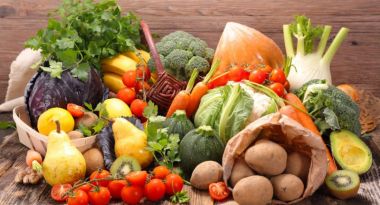 Buissiere Farm
Production of fresh and seasonal fruit juices
112 Rue des Bas Avaux
45800 45800 St Jean de Braye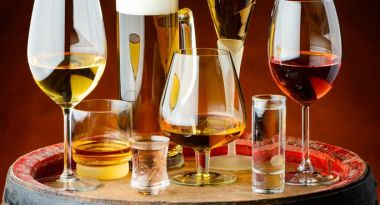 Vergers Des Beaumonts
Come and pick apples and pears directly in the orchards! Or choose the shop and buy your fresh or processed fruit with or without alcohol. Fruit juices are on sale at the Tourist Office shop.
2 rte Auxerre,
45420 Bonny sur Loire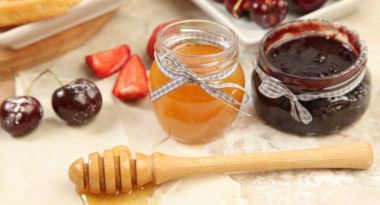 LES APICULTEURS ASSOCIES
A family business created more than 70 years ago, the associated beekeepers harvest honey with a deep respect for ethics and quality.
3 Allée Joseph Cugnot,
45240 La Ferté-Saint-Aubin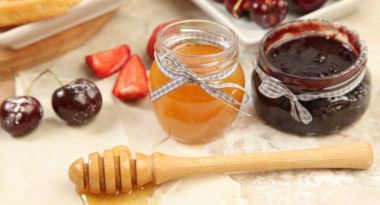 1 allée Joseph Cugnot
45240 La Ferté Saint Aubin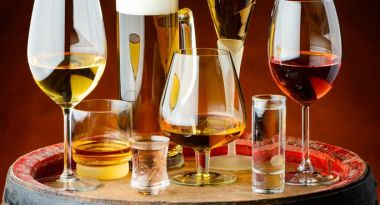 25 route d'Orleans
45380 Chaingy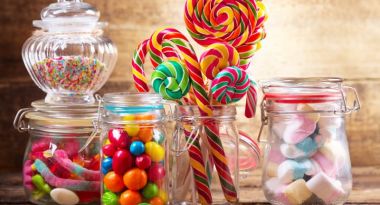 Biscuit maker Ouro
35 avenue Gabrielle d'Estrées
37270 Montlouis-sur-Loire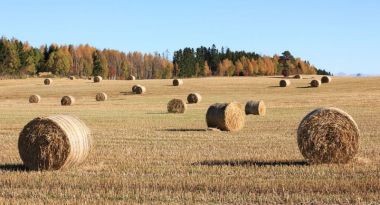 "La bonne pate de Beauce"
Wholemeal farm pasta - 100% durum wheat produced and processed on the farm!
3 rue des Acacias
45410 Ruan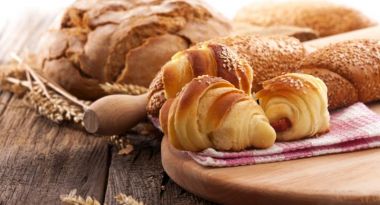 Avenue de la paix
45800 Saint-Jean-de-Braye